At AYTM we work with independent third parties to ensure fair and safe work conditions in our supply chain (see more under production) and high quality and safety of our products. We also use voluntary certification schemes to show our efforts directly on the products and help you identify and choose sustainability.
FSC®
FSC® stands for Forest Stewardship Council® and is an organization promoting environmentally appropriate, socially beneficial, and economically viable forest management worldwide. For us the FSC label is a quality label that ensures both legal and responsible use of forest and social standards for the workers in the forest and the production of our products. By choosing FSC certified products you also contribute to responsible production and consumption and sustainable forest management.

We are gradually working on adding more wooden products to our portfolio and to change all wooden products to be made with FSC certified wood. Look out for the FSC claim in the product description to see which products are already certified.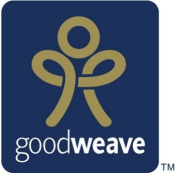 GoodWeave
Social standards and especially the fight against child labor are of a special importance to us. Goodweave is an organization that is fighting child- , forced-, and bonded labor in the rug industry.

GoodWeave makes unannounced factory audits to ensure compliance with their standards. All our AYTM carpets are Goodweave certified and help provide education and medical help for the workers in the factories, their families and the local communities.